Lina Patchwork was founded in August 2013 by Nancy Adamek and was based at the Kent Enterprise Hub at the University of Kent in Canterbury (UK) until 2015.
Lina Patchwork now operates from Homeside Farm in Ripple near Deal – however, the company does not have retail shop premises!
We are a growing business on the Quilting scene specialising in the manufacture and supply of high quality, pre-cut paper pieces for English Paper Piecing. All made in the UK! In our online shop you will find a large selection of your favourite paper pieces, like Hexagons and Diamonds, as well as less common shapes that you can play with to create your own personal quilt master pieces. We offer a selection of different pack sizes at competitive prices with a fully secure online payment system and delivery through Royal Mail. We do of course also stock other EPP related goodies for you! Browse our website for Acrylic Fussy-Cutting Templates, books (by famous quilt artists, like Sue Daley, Willyne Hammerstein or Di Ford) and other sewing notions like needles and glue pens.
Of course we also design and stock our own range of EPP patterns and you cam browse our Quilt gallery for inspiration too – we are sure there is something for everyone! I will also be sharing some of my latest paper piecing projects and technique tutorials with you in my blog from time to time.
Can't find what you are looking for? Then please do get in touch (via email or phone us!), we will always try to help you and can also custom cut paper pieces for you at a small surcharge. If you see us at one of the Quilt Shows please come and say Hello, we are always happy to meet fellow Quilters, young or old, new to quilting or 'honed experts'. We all inspire each other because we have something in common: Our love for QUILTS!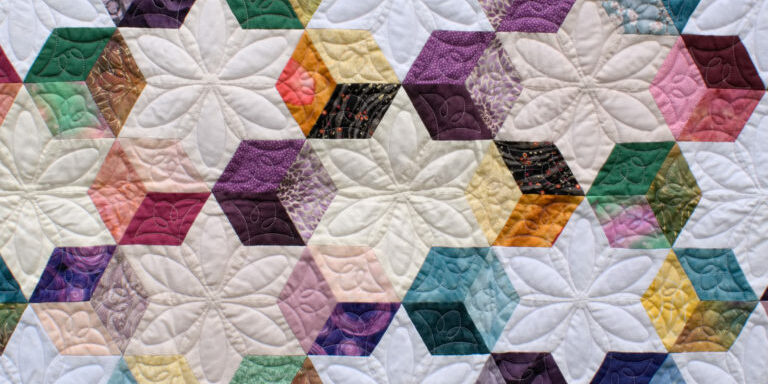 In her talk 'English Paper Piecing – More Than Just Hexagons' she will share her initially very reluctant journey into quilt-making, and English Paper Piecing in particular. She will share her (very!) large stash of paper pieced quilts, explain techniques and patterns, hoping that her passion will inspire more ladies to discover the joy of hand-sewing.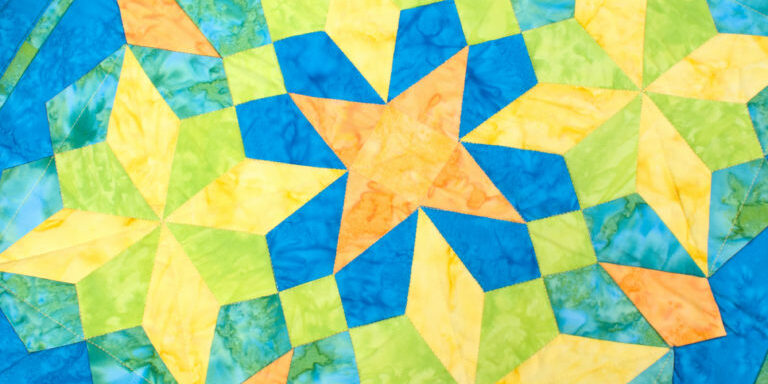 Nancy is happy to visit your group to teach EPP and offers a variety of workshops which cater for all level of experience. You can choose from pure 'beginners' workshops, to more specific EPP pattern ones (or have your own custom workshop designed for your group).
"I have been a keen Quilter for the last 30 years and had my passion for quilting passed on to me by my mother Lillian Adamek. Lillian was a completely self-taught Quilter who founded the first local quilt group in Hamm (Germany) when I was a teenager in the 80's. She went on to teach quilt classes at the adult education centre and organised annual quilt shows for many years. She actually got me into quilting by refusing to make me a quilt! And although I was very cross with her initially, I am eternally grateful for her stubbornness today. Once I started sewing my first quilt I never looked back: What a wonderful hobby!
Mum and I always dreamed of having our own quilting business together. Sadly she passed away in 2006. But her legacy lives on: 'Lillian & Nancy' – Li-Na = Lina Patchwork.
Did I mention that she was pretty obsessed with English Paper Piecing?' Happy stitching!
Nancy x