What is English Paper Piecing?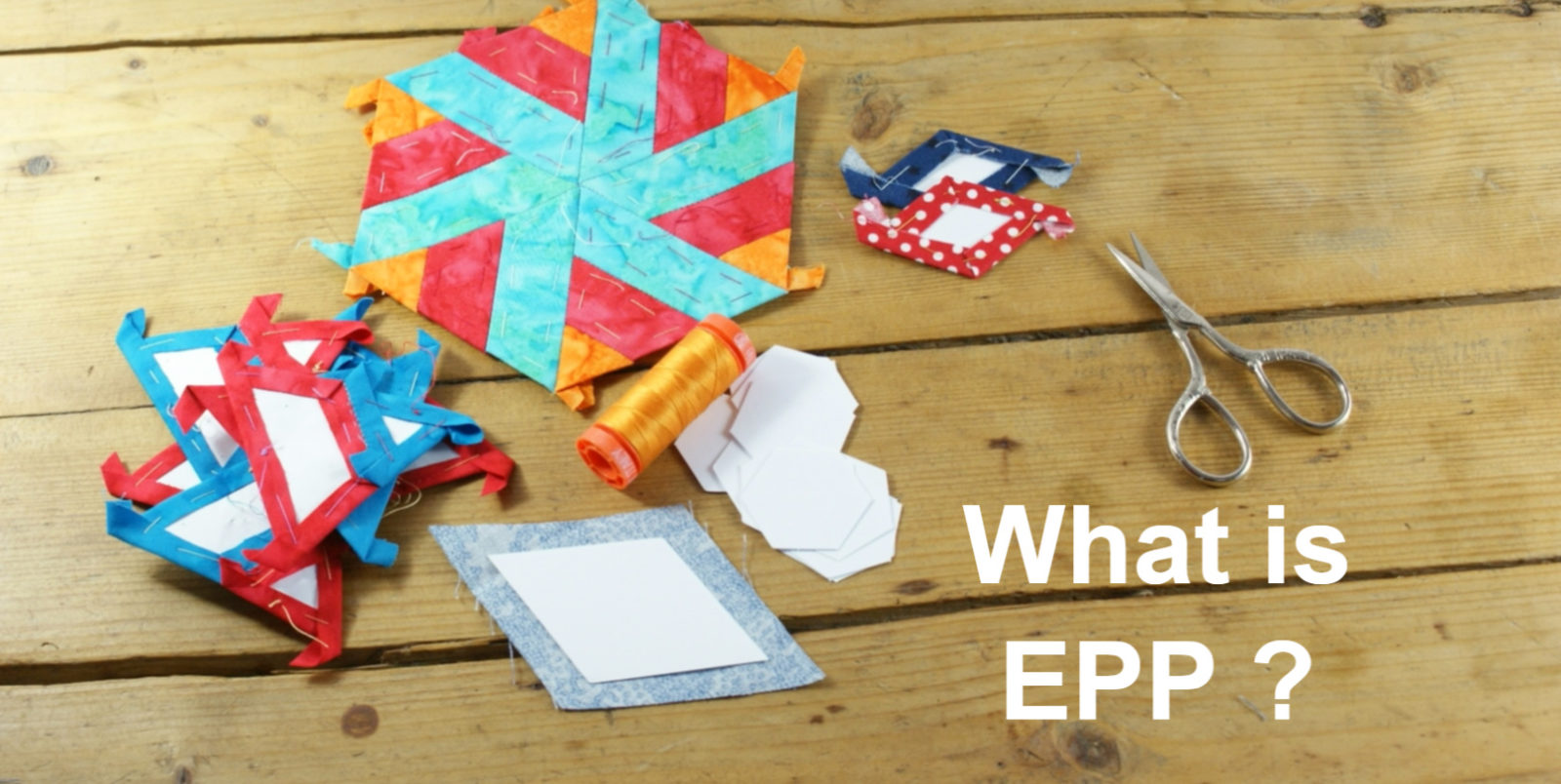 'English Paper Piecing' (or EPP) is a popular hand-sewing method used in traditional patchwork and quilt-making.
Originating in England in the late 1700's it was also known as 'Mosaic Patchwork' and it is one of the old patchwork techniques that has survived through the ages.
The method involves the stabilisation of a fabric patch by fixating it to a heavy paper template (the 'paper piece') and then sewing the stabilised patches together into larger patterns, or quilt blocks.
Briefly: The fabric patch is cut larger (usually at least ¼ inch (6mm)) than the paper piece, as you need this excess fabric to be able to wrap it over the edges of the paper. This excess is also known as the 'seam allowance' and it is neatly folded over the paper piece edge and fixated in place. Traditionally the seam allowance is stitched down ('basted') with needle and thread ('thread basting'), but a more modern approach is to use a non-permanent glue-stick and glue the folded fabric edges in place instead ('glue-basting'). The most commonly used technique to sew the covered pieces together is to lay two pieces right sided together, line up the edges to be sewn, and then over-sew (or whip-stitch) along the edge catching only the fabric that is on the very edge, avoiding catching the paper pieces themselves with the needle. When the stabilised fabric patches are sewn in on all sides the paper pieces are removed (by removing the basting threads or gently undoing the glue bond).
(A more in depth 'How-to' guide can be found here)
The most popular shapes used in English Paper Piecing are Hexagons, which are great for using up fabric scraps and they can be easily assembled into larger patches, either in a pattern, or in a more random fashion. Other popular shapes used in EPP are Diamonds and Triangles, which go together for form patterns in various tessellations with Hexagons.
Why is EPP so popular today?
With our ever faster and busier lives today many people a yearning for a bit of 'quiet time' and being creative with our hands seems to calm down the mind. Many quilters refer to their hand-sewing even as a kind of 'therapy' and there is also a so-called 'slow-stitching' movement, promoting the mental health benefits of hand-sewing. English Paper Piecing fits that bill perfectly.
What are the advantages of EPP over other sewing methods?
English Paper Piecing is a very accurate sewing method and enables unparalleled precision in piecing with a little practice. Spectacular patterns can be hand-sewn with relative ease and, as only a few tools are needed, it is a very 'low-Tech' method!
The fact that you do not need a sewing machine makes the EPP sewing project very 'portable' and many quilters like to have a project they can work on while listening to the radio or watching TV in the evenings – you could even take it away on holiday with you!
And tool-wise you only need a few essential tools for English Paper Piecing: Fabric, needle and thread, scissors and the paper pieces themselves.
In recent years the so-called 'fussy-cutting' of fabrics used in EPP projects has been taken to a whole new level, creating very 'arty' modern quilts. Fussy-cutting is achieved using see-through acrylic templates (usually with an added seam allowance). They enable cutting the fabric in a very selective manner, picking out motives or patterns which then create secondary patterns when sewn together.

---
Further reading: